MATERIAL:
De 9e editie BHK-VermijsPersPrenten bestaat uit 4 hoogdrukprenten op A3-formaat van vier verschillende kunstenaars, gedrukt op 225 grams van Gelder Simili Japon papier.
The 9th edition BHK-VermijsPersPrenten consists of 4 relief prints in A3 format by four different artists, printed on 225 grams of Gelder Simili Japon paper.
YEAR:
Editie 9 jaar 2023 wordt in 2024 uitgebracht door BHK drukkers.
Edition 9 year 2023 will be published in 2024 by BHK printers.
IMPLEMENTATION:
De vier prenten worden uitgevoerd in hoogdruktechniek en per complete set wordt een bewaarmapje bijgeleverd. De prenten worden genummerd en gesigneerd in een olplage van 50 exx.
The four prints are executed in relief printing technique and a storage folder is included per complete set. The prints are numbered and signed in an edition of 50 copies.
INFORMATION:
BHK drukkers - Paul Bogaert, Cees Hamann en Frans de Kock - hebben sinds 2015 veel kunstenaars uitgenodigd om werk te komen maken. Enkele namen van deelnemers: Jan Doms, John Dohmen, Inge Claesen, Paul van Dongen, Reinoud van Vught, Wijnand van Lieshout en Marjolein Landman.
Bij editie 8 zijn links enkele prenten van voorgaande edities afgebeeld van resp. Kitling Jordens, Inge Claesen, Ad Roefs, Paul van Dongen en Marjolein Landman. Prenten editie 9 worden gepubliceerd in 2024.
De zgh.VermijsPers is een proefpers uit 1950 die oorspronkelijk gebruikt werd om zetsels te controleren. Het is een authentieke hoogdrukpers uit de erfenis van de in 1907 opgerichte drukkerij van Louis Vermijs te Breda. De pers functioneert nu op locatie NS16 te Tilburg.
Voor editie 9 jaar 2022 kunnen particulieren nu intekenen voor een bedrag van € 70,00 en bedrijven voor €150,00 exclusief verzendkosten. De opbrengsten worden gebruikt voor materiaalaankoop en het in stand houden van de pers.
BHK printers - Paul Bogaert, Cees Hamann and Frans de Kock - have invited many artists since 2015 to come and make work. Some names of participants: Jan Doms, John Dohmen, Inge Claesen, Paul van Dongen, Reinoud van Vught, Wijnand van Lieshout and Marjolein Landman.
In edition 8 to the left are some prints from previous editions of resp. Kitling Jordens, Inge Claesen, Ad Roefs, Paul van Dongen and Marjolein Landman. Prints of edition 9 will be published in 2024.
The so-called VermijsPers is a proof press from 1950 that was originally used to check types. It is an authentic letterpress from the legacy of the printing company founded in 1907 by Louis Vermijs in Breda. The press now operates at location NS16 in Tilburg.
Private individuals can now register for edition 9 year 2022 for an amount of € 70.00 and companies for € 150.00 excluding shipping costs. The proceeds are used for purchasing materials and maintaining the press.
De prenten worden geleverd in onderstaand afgebeelde bewaarmapjes.
The prints are delivered in the storage folders shown below.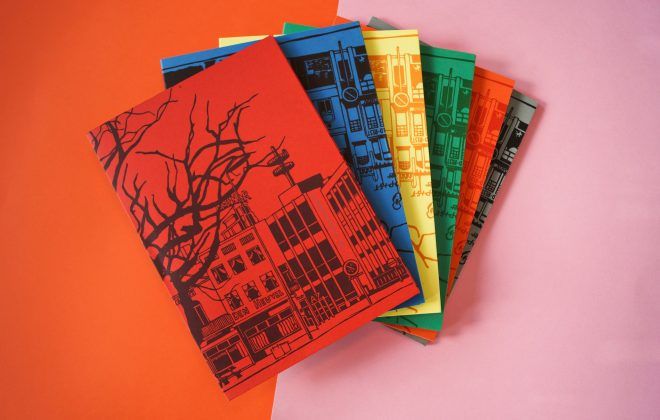 Bestel editie 9 door € 70,00 over te maken op rekening NL38KNAB0255284985 t.n.v. ART013, onder vermelding van "VermijsPersPrent editie 9 PARTICULIER"
Order edition 9 for 70,00 to be transferred to account NL38KNAB0255284985 in the name of. ART013, stating "VermijsPersPrent volume 9 PARTICULIER"